Benefits Counseling and Education
You want to offer your employees the best benefits package you can, and so do we.
We don't just offer benefits – because no two businesses are alike. We can help you understand what type of benefits may work best for your company, and help your employees better understand the benefits you make available to them. It's a proven fact that the more employees understand their benefits, the more they appreciate them.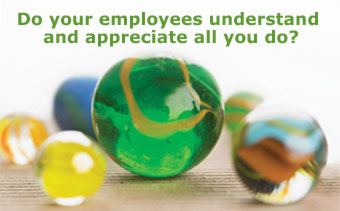 Even though employers are offering more benefits than ever, their employees don't understand those benefits and are unable to appreciate the value of their benefits package.
That's the bad news, according to the Society for Human Resource Management 2008 Employee Benefits Survey sponsored by Colonial Life.
The good news? Colonial Life's benefits education sharpens employees' understanding and appreciation of the value of their employer-provided benefits.
As counselors for your employees' benefits needs, we come to your work site and spend one-to-one time with each employee to provide simple, straightforward advice about the benefits they have — and those they need to fit their individual lifestyles and budgets.
Customized Materials
What employees don't know and understand about their benefits can hurt your ability to attract and retain a quality workforce. Our thorough benefits communication vehicles – from e-mails to posters, payroll stuffers to Benefits Statements that show both the employee's contribution and yours – help your employees understand their benefits and appreciate the contributions you make for them.
And best of all, we handle the enrollment communication and enrollment details for you – before, during and after the enrollment.
Our custom benefits communications materials can help your employees better understand their benefits.
Announcement letters and fliers
Brochures
E-mail campaigns
Power Point presentations
Spanish materials
Benefits Statements
Enrollment Election Form
Benefit Communications that Count
A sample of what Colonial Life offers:
As healthcare continues to change, it is crucial for employers to provide education and effective communication of benefits. Our communication services help ensure a better understanding and appreciation of benefits, as well as the total value of a benefit package. Employees can't appreciate benefits they do not understand, therefore our system of onsite one on one benefit counseling sessions are an integral part of any benefit program.
Enrollment Services
Smooth, Streamlined and Effective Enrollments
One–to–One
Colonial Life's traditional one-to-one enrollments offer the most employee engagement and best opportunity for decision-making support. To help educate and counsel your employees on their benefit needs, we come to your worksite and spend one-to-one time meeting with each employee and enrolling them through our own enrollment technology.

Each employee has the chance to confidentially review his or her current benefits, consider new options, and most importantly, see how their choices will affect their paycheck. We can also capture simple changes, such as an employee's new address.
If we make any updates or changes, we will make them in a confidential manner and give them back to you for updating your personnel files. This includes addresses, phone numbers, and marital status. What this means to you is up-to-date information on all your employees, and the real benefit to you is fewer errors in sending such things as W-2's and less work for your staff.
Co–Browsing
We also offer the option of co-browsing. It's the same as a one-to-one enrollment session but conducted over the Internet with a Colonial Life benefits counselor on the phone. Both the benefits counselor and employee log in to our Harmony® enrollment system. The employee has all the advantages of a one-to-one session but it's simply over the phone.
Self–Enroll/Group Meeting
Self enrollment and group meetings offer alternative options that are available to access employees who work remotely or are not able to meet with a benefit representative. Our pre-enrollment communications can introduce employees to our simple web-based enrollment system and the steps they need to follow.
Harmony
Whichever enrollment option best fits your business needs, the web-based technology that powers them all is our simple-to-use Harmony® enrollment system, which features online and offline capabilities.
Harmony® provides everything you need to have a successful enrollment.
Streamlined enrollment of all your benefits – core and voluntary.
Your benefits program is communicated consistently to all employees, regardless of location or how they are enrolled.
Harmony's daily reporting tool allows us to provide you with data on who has enrolled, who hasn't, and details on elections being made each day during the enrollment.
From daily enrollment reporting to post-enrollment data return, Harmony has the flexibility to allow you to customize the type of data we provide to meet your individual business needs.
In addition to annual enrollments, we can provide support for new-hire enrollments.
Harmony® utilizes safeguards to keep information about your employees and their elections protected; provides immediate notification if employees are eligible for the Colonial Life products they are applying for; and supplies accurate payroll deduction information after the enrollment.